The Emmys are coming up and I have noticed in recent years that in this show and in others like the Oscars, Grammys and Teen Choice Awards I look forward with morbid curiosity to the scroll call highlighting the significant names lost during the past year.   It's a bittersweet interlude to the festivities, mournful and  astonishing,  for the way these distant stars and their work impacted us so significantly during our lives.   There's that sudden sinking feeling when a face comes up that you didn't realize was gone.  It's quite profound and it happened to me last weekend in Montreal which got me to thinking that we should compile our own "In Memoriam" reel every year to remind us of both what is gone and perhaps what was gained from our time with the now departed.  This is my first go at it so I have some catching up to do.
I did not know John Lubelski all that well in high school.  He was a couple of years back and what I knew of him was that he was rarity – a tough SOB Jewboy (I can say that, not you) from the wrong side of the street.   He ran with a guy from my neighborhood named Marty Cole and when it came to the girlies, well, he and Marty were Butch Cassidy & The Sundance Kid.  We, who got nothing, could only look on in awe.   As we got older he was a guy you played hockey with on occasion or ran into at parties.  Marty went to medical school, got married and moved to Calgary and the bromance between those two ended badly.  Lubelski, one of the most loyal guys I every met, took that hard but started his own family that produced three daughters.   I couldn't call him a friend but he was always one of those guys that was, in the words of Billy Joel, "quick with a joke or a light of your smoke…"  Too many smokes in fact and about a dozen years ago was diagnosed with some kind of lymph/larynx cancer that earned him a hole in his throat through which he spoke for the rest of his days.   That didn't stop the hockey, the insults or the extremely sharp opinions that came forth but this many decades later it was just Lubelski and he was part of the local fabric.  Strangely I became closer to John in recent years through a mutual friend.  He just seemed to turn up more and he was a lot more engaging.  He also had some wisdom, a very successful but unflashy guy,  that he was willing to share.  He also had guns (again the tough Jewboy) and was happy to share those too.  I still have my targets from the time he took me and his small arsenal out to his gun club .  Shit, that was fun.   Then, about a year and a half ago, he was playing hockey, made a quick move behind the net, tripped, broke his neck and died with his skates on.  Apparently the chemo had so weakened the neck muscles that he didn't have the failsafes the rest of his have when it comes to sudden twists.  He was barely 60 and a new grandfather.   I had had lunch with him about ten days prior where he confessed to be on the path to be buying a condo in Florida, something he had been very much against in the past, especially if he heard you were thinking of it.  Again Lubelski and opinions.  Very much hand in hand.  I am writing about John now because his name keeps coming up and as the Rabbi at his unveiling said, "John is not gone, it's just that our relationship with him has changed." So true.
My business is a very niche corner of the entertainment segment.and I have been fortunate or foolish enough to be able to indulge some personal passions.  A few years ago I came up with the stupid idea to produce and write a documentary about Roller Derby.  I had been a fan as a kid and there was a new wave of roller girls out there and perhaps I could draft off the buzz of Whip It, a forthcoming roller derby feature from new hyphenate Drew Barrymore starring Ellen Page.  For better or worse I also knew Steven Bass, the only man in possession of what film and tape was available from the glory days of Roller Derby from the 50s to the early 70s. I had done some business with him a couple of years prior as he was in possession of the only copy of a rare HBO telecast of a hockey game between the Hartford Whalers of the World Hockey Association and the Soviet nationals circa in 1977.  I bought some DVD rights from him for a boxed set I put together on the history of that short lived league called the WHA Chronicles.  Uber niche.   I couldn't get anyone to finance the Roller Derby doc so I plunged in with some corporate profits and entered Bass's world of ancient derby stars, commentators and promoters.   Bass was one of those guys who didn't care much for anything that happened past 1964 which is perhaps why he lived in Niagara Falls, New York,  a good place to be if you are not too fussy about your future and your present for that matter.  He was a terrible chain smoker and was married a woman from Toronto who shared that same addiction.  He looked like a vagrant thanks in part to more AWOL teeth than a smile can suffer.  Even though he had a full head of hair he would always show up at the office with a ratty trademark cap that you might have seen on a Bowery newsboy in the 30s and a a threadbare Namath-era New York Jets jacket   We shot the doc, Rolling Thunder, in the home of derby, San Francisco,  and thanks to Steve we had most of the greats on tape. It actually ran on a few PBS stations.  From there he was focused on launching Golden Sports which was going to be an internet subscription service where you could stream his library of vintage boxing, football and basketball films.  The stuff went too far back for most of the those who are above ground but I did what I could to support him.  He fell ill with cancer, bounced back and we stayed in touch until a couple of years ago.  A few weeks back I got an email from Jerry Seltzer, the godfather of syndicated sports television who said that Steve had passed away.  I called Steve's number but there was no answer.  I tried getting a number for his widow but it just dead ended.   I am left a little empty at the thought that Bass will be forgotten quicker than he was remembered.  Not by me though because thanks to him, I got to make Rolling Thunder.   Rest easy my friend.
I am writing all this because of what happened last weekend.  I am a relatively observant Jew and try to get to shul every Shabbos.   A couple of times a year I get to Montreal and stay the weekend.  I make a point to schlep up to an old synagogue in the neighborhood made famous by the writings of native son Mordecai Richler.  This past Shabbat I got in late but it wasn't until noon that they had the requisite ten men to run a kosher service.  When it finally was over the few of us who hung around gathered in the basement for a traditional post-service nosh called, for those not of the faith,  a kiddush.  The gentleman who keeps this religious landmark open walks in several miles every Shabbat to run the service and I asked him what happened to Teddy Millberg, a guy I had looked forward to shmoozing with when I came to the shul.   I hadn't seen him in a couple of years in fact.  I honestly thought  he might have been away coincidental with my recent visits.  No, "….Teddy died" was what I was told from a face suddenly visited by an unwanted sadness.  Some kind of cancer came up quick a couple of years ago and he was gone.  I walked back to the hotel a little winded.  We were used to hearing other things in these situations. "Oh, he's on vacation."  "Oh, his wife dumped him and he moved away."  "Oh, he spends his Shabbats somewhere else now closer to his house."  But death, that was never part of the vocabulary.  Now it is part of the equation.  But one thing is for sure, that little shul a block or two away from Schwartz's Deli will never be the same for me.  Alev sholom Teddy.
I have in my bathroom a black and white  8 x 10 of hockey legend Gordie Howe that my father brought me over 50 years ago after one of his frequent business trips to his Detroit office.  When I got the glossy my mother had already taken it down to the old Eaton's on College Street in Toronto and had it framed.  It is signed to me in ballpoint, Gordie posing on the boards, leaning so slightly on his arms, wearing his battle worn hockey gloves. Not that I was the biggest Howe fan but if you were a fan of hockey back then in the days of the six team NHL you were a fan of Howe.  That's how it was back then.  The first game I ever went to was Toronto vs Detroit and even though the Red Wings lost that night to the Maple Leafs Howe scored both for the losing side.  You didn't see Howe play much because there was little hockey on TV after the Leafs on Saturday night.  You listened to the radio a lot more than you do today. By the time I saw him that night he was already a solid sixteen years into his career but still so dominant.  A few years later the Leafs traded my favorite player Frank Mahovlich to Detroit in one of the worst deals in sports history but I was there when big Frank came back to Toronto on a line with Howe and another legendary Red Wing, Alex Delvecchio.  Gordie was almost 40 but when they came down the ice but it was magical.   Cut to 2006 or so and I was compiling a DVD boxed set called The Lost Series, a retrospective of a little remembered showdown pitting the best of the aforementioned WHA against the Soviet national team that had nearly beat Team Canada two years prior.   It was mayhem on ice and to sweeten my package I reached out to the Red Wings to see if I could get Howe to come to Toronto to add his perspective in a commentary track.  It wasn't cheap and if I didn't get him out of there in time to drive back to Michigan to look after his beloved wife Colleen, then in the final throws of what I believe was ALS, I would have to pay for the nurse's overtime.  Fair enough.   Gordie showed up as his usual soft spoken self.  Somehow big Frank had gotten the word and so did the widow of the late Carl Brewer, another legendary player and  she showed up for support.  Howe was marvellous on the mike, talking of the joy of playing with his sons Mark and Marty on that version of Team Canada.  I do remember him looking at the monitor and saying something like, "I never saw my sons smiling while they played and I said to them, 'Boys are you not having fun?" because its fun to me and that's why I play.  If it isn't for you then you shouldn't be playing."  This is the kind of person Gordie was.   It was never really about the money.  He had a talent and he didn't waste it.   When we interviewed Chicago great Bobby Hull a couple of years later he referred to Mr. Hockey as "Gordon Howe".  Such was his respect for the man and they way he lived on and off the ice.   It would be impossible to find a more humble specimen of professional athlete today.   To say that I am going to miss Howe, gone at 88 this past June, would be inaccurate.  But I do miss what  his generation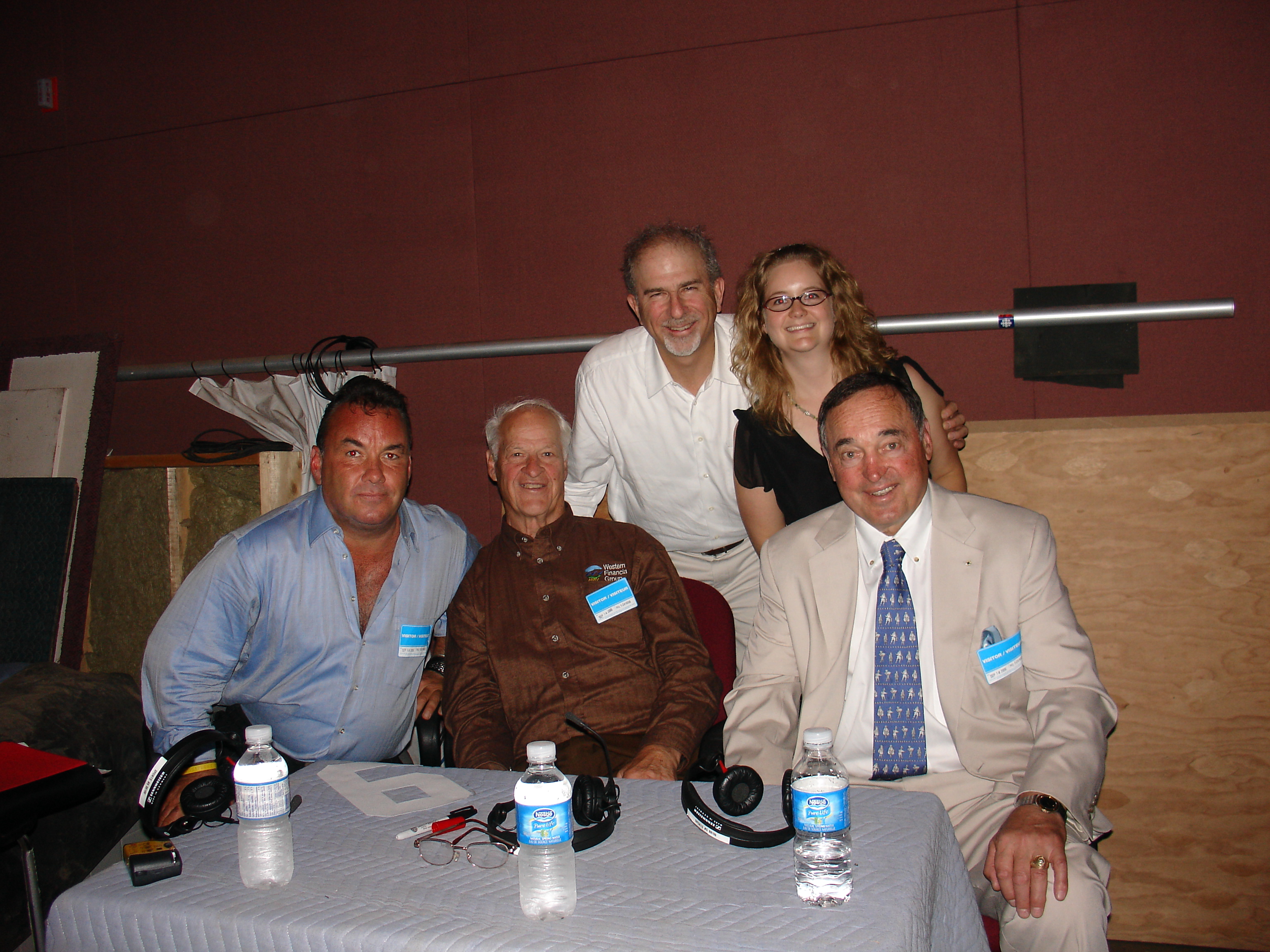 stood for and what he did for the fans and people of Detroit in that old forgotten barn called The Olympia. That's Gordie with me over his shoulder and Frank Mahovlich on the right.