The great late film critic Jay Scott, during his 1982 review of the legendary teen classic Fast Times At Ridgemont High for the Toronto Globe & Mail, wrote that high school was the last truly democratic institution we encounter during our lives. Those sentiments rang so true a few weeks ago when I attended the farewell event for Vaughan Road Collegiate Institute which has now been shuttered for lack of enrollment. Permanently. Closed. Ferme. SchlieBen. Threw that last one in because they used to teach German there. That's how far back I go. Class of '72 as it were. I had been to a couple of events in the past. There was a 50th anniversary event in 1976 for which my sole purpose was to take Angela Koutoulakis as my date just to blow away my friends. She was our collective crush and somehow, years after graduation I found the courage to ask her out, let alone find her. Nothing much happened but she was as charming as a Greek girl chained to her old world parents could be. I was 22 and she was barely 20. I don't remember much else except there were a lot of WWII veterans floating around the halls that night. Proud proud Canadians.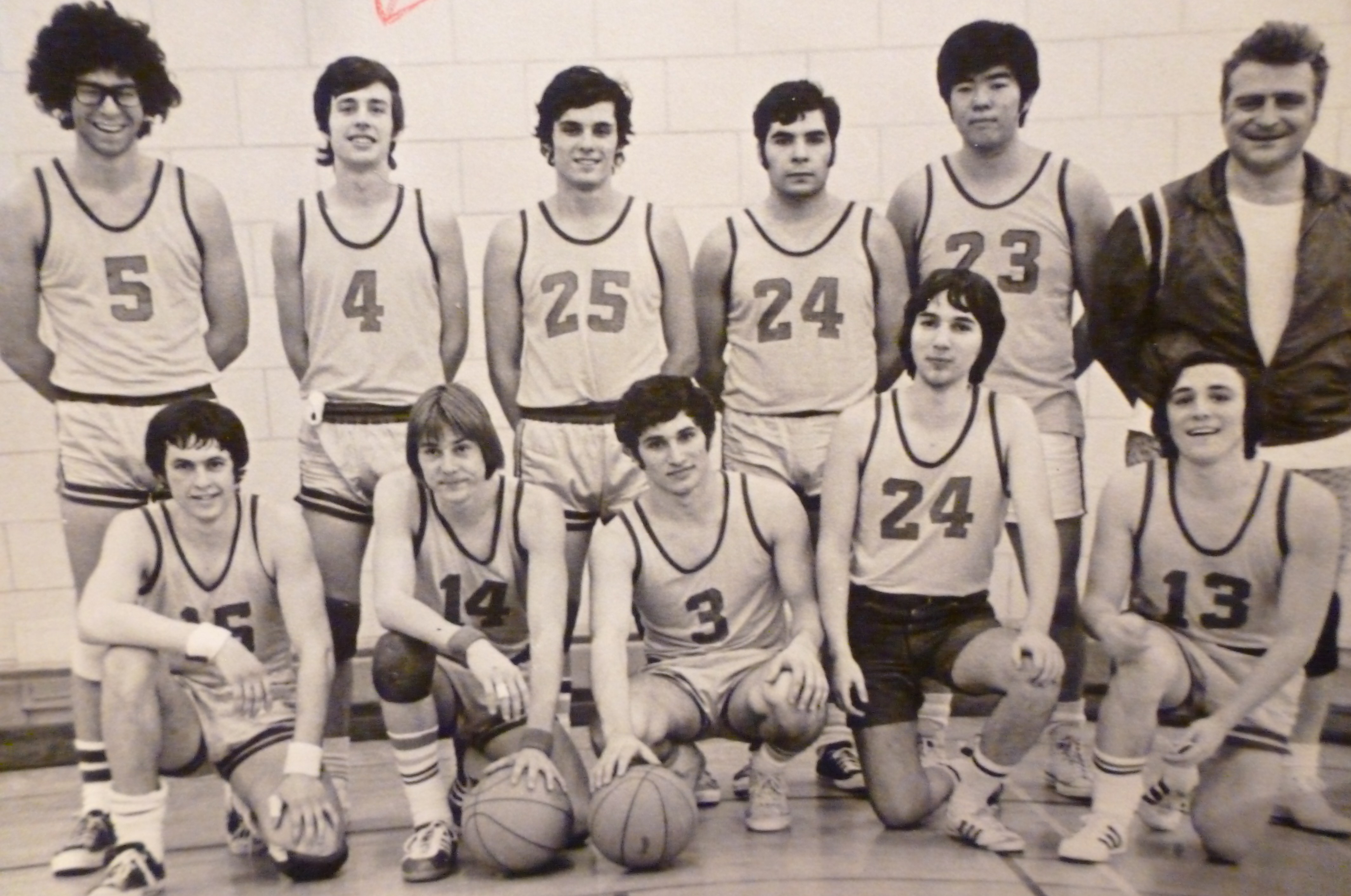 Sixteen years ago there was a 75th reunion and a small chunk of our class showed up. And so did Angela, then on her second marriage and living in Boston. I hadn't seen her in 25 years but I got her number and we became e mail pals and even hung out in Boston when I was down on business or visiting my son at college. She had grown into an extremely sophisticated woman for whom life had worked out. Outside of that it was just me and my idiot friends. We went out for a bite after. My pal Mitch was lusting after one classmate to a point where it became embarrassing. Randy brought Judy, his wife whom I dated once in twelfth grade. She had a car back then, I didn't even have a driver's license so it was short lived. As was she, dying tragically of cancer just a few years after that reunion. Randy showed up for the closing party. We exchanged greetings. He had dated my freshly former girlfriend years before my recently ended three year stint. Small world.
I was there for no more than two hours. A couple of women were friendly and remembered me as the class clown. There would be no lusting at this point. A couple of the guys from the basketball team were there. Louis DiPalma. Ray Goodman. Ronnie Gratz. I played ball my senior year. Well I sat on the bench for most of it. If you look at the picture above its a wonder they let me hang around. Coach Kantaroff, now gone, didn't care much for me. My one moment of glory, and I remember it perfectly, was during the annual scrimmage with the gym teaching staff. I managed to steal a ball from Mr. Smagala under our basket ran it up the court and laid a perfect over the shoulder pass to #24 in the picture (name escapes me) who in turn flipped in back to me and I made a perfect layup. Geez, I might had some potential. From Ray I found out that Nick , a guard on the team, had died. So had a few other guys – Al Krofchick, Lawrie Baltman, Steve Ineson. And Lubelski if you follow this blog. He would have been very entertaining at this event.
There were others present and it was great to see them. Chris, Ellen, Hanita, Roz, Cyndi, Carole, Bonnie and Binny.
However, back to Scott's point. Prior to high school my local elementary school was populated with Jewish kids more or less on the same page. I think the ratio against the non-Jews was at least 80:20. Many of us went to the same Hebrew school. Everybody traded Bar Mitzvah invitations. I delivered papers to everyone's house. When we wanted to play some softball it wasn't hard to get eighteen boys together.
Yet when I showed up at Vaughan Road for the 9th grade at the tender age of 13 it all changed. The Jews were the minority. The majority was a melting pot of working class Italians, Portuguese, Jamaicans, Greeks, Estonians and even a little white trash for flavor. There were big ugly guys on the football team (I sat on the bench for one season of JV ball) who stank up the locker room. Girls in the hallways who looked like women, and teachers who didn't give a shit about Johnny Gross. And so I flailed in time with my parents' failing marriage, never really finding my place , never really understanding the opportunity a full service high school offers. But for the less fortunate kids, this was a haven. I remember a guy named Phyto Harris, perhaps a grade or two ahead of me who destroyed me on the football practice field with a cutback block during a scrimmage. Kind of guy who ran around the halls with a full briefcase because he not only worked hard but played every sport the school offered as well. I saw him at the last reunion. He was living in Ottawa. He brought his kid and I said to the boy, "Your father didn't waste his time here. He became the kind of student we respected and strived to emulate. Take a lesson from this." Not sure it took but Phyto appreciated the sentiments.
Then there was the aforementioned DiPalma, a standup guy and terrific guard on the team who worked the early morning shift at the Food Terminal way across town prior to coming to high school because he had to kick in at home. Managed to keep his grades up and letter in a few sports. Sure, I delivered papers in the morning but that was an hour and I still had time for a hot breakfast. I wasn't on the public transit for a couple of hours just to get to school.
But I remember that everybody in the class were good, solid kids. Not a lot of druggies for the period and even though I never saw a lot of them after high school, the memories are warm, outside of those of a few requisite beatings I took from the requisite thugs who hung around the school's somewhat rougher environs. Its different now. Houses in the 'hood that sold for $25K back then now go for $1.5 million.
After high school, the democracy Scott identified vanishes in an intersection where the paths are divided by merit and money. And so we scattered. Although our high school class didn't produce a lot of world beaters there were more than a few doctors and lawyers. Quality adults. Some of my buddies did well. I can still count a few of them as close friends. For a time we got together on a regular basis to recount the girls we almost got to second base with. But that too, got tired.
As I left the school I heard a couple of kids say with enthusiasm, "See you Monday Mr. Parker!" to a teacher driving off the lot in an old Camry. Maybe just a couple of more Mondays at that point. As I walked a couple of more blocks a passed a couple of oldtimers (like me) with the name Koski on their name tags. I stopped and asked if they were related to a Keith Koski, a kid from Vaughan who played against me in the local league. We had a little rivalry in the halls one year. They said he was a cousin. I asked how he was. They said he passed away about nine years ago.
There wasn't much to say. I turned and walked away from Vaughan one last time, content that I was still around. Perhaps there is a reason for that. Yeah, its not over til its over. Enjoy your Mondays while they still are on the calendar.